Policeman Arrested For Allegedly Shooting Wife Dead


Police in Jinja is holding one of their own for allegedly shooting his wife dead.

The incident happened at the police barracks in Kampala when the suspect opened fire on his wife killing her instantly.

The deseased has been identified as Atino Jennifer, a police officer attached to Very Important Person Protection Unit of Police (VIPPU).

Kampala Metropolitan Police spokesperson, Mr Patrick Onyango said in a Tuesday, September 5 police press statement tht, "The cause of shooting is not yet established. The suspect is currently detained at Jinja Road Police Division awaiting interrogation."



DP Demands Security Agencies To Amplify Fight Against Terrorism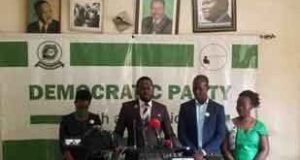 The Democratic Party (DP) has asked security agencies to use its intelligence to identify terrorists before carrying out an attack on the country.

DP's call comes in the wake of terror threats following Sunday's incident where Police safely detonated a bomb at Pastor Kayanja's church in Rubaga.

Security agencies also detonated two more bombs in Bunamwaya and Nateete on Monday.

Speaking to journalists at the party head offices in Kampala, the president of DP's youth wing, Uganda Young Democrats, Ismael Kirya lauded police for their quick response. However, he wondered why security agencies couldn't detect the threats through their agents.

He highlighted the need to use the classified budget to invest in security apparatuses that can detect terrorists early.

Kirya showed disappointment in Uganda's security agencies, accusing them of focusing on opposition leaders, rather than terrorists.

"It is just unfortunate that our security understands to foil plans of opposition leaders than terrorists. Should we say that the security is sleeping on the job? Because if the bomb can be blasted, how many people would have died?" Kirya wondered.



Speaker Forces MP Ruhunda to Withdrawal Statement on Bomb Scares


The Speaker of Parliament Ms Anita Among has forced Soroti East Division legislator Jonathan Ebwalu to withdraw a statement in which he questioned why the bomb scares in Kampala have come at a time when there is political tension in the country.

"Sometimes I also get a little bit uncomfortable. Whenever politics heats up in the country, is when government comes up with issues of the bombs being planted everywhere," Ebwalu said before he was interrupted by Among who asked him to sit down.

The Speaker expressed her appreciation to Police for intercepting a suicide bomber at Pastor Mayanja's church in Rubaga.

However, Kira Municipality MP, Ibrahim Ssemujju Nganda raised a procedural matter, noting that the Speaker cannot stop a member from raising his/her matter since there are bush war generals who wrote books confessing how they threw bombs during the gorilla war of 1980-1986.

Meanwhile, Bukooli Central MP, Solomon Silwanyi wanted the government to advise how Ugandans should handle the situation, but the Speaker overruled him, noting that Members of Parliament should be the ambassadors of mobilizing their constituents on the terror alerts instead of asking government to guide them.

Fort Portal Central Division MP, Alex Ruhunda warned the government against publicizing such threats, saying it affects tourism which is currently one of Uganda's current foreign exchange earnings.