Fear has engulfed the country following the death of a medical Doctor who succumbed to Ebola this morning at the Fort Portal-based Regional Referral Hospital.
The deceased has been identified as Dr. Mohamed Ali, 37, a Tanzanian National who was pursuing a master's of medicine in surgery at Kampala International University.
Minister of Health, Dr. Jane Ruth Achieng has confirmed the bad tidings, "I regret to announce that we have lost our first doctor, Dr. Mohammed Ali, a Tanzanian National, 37yr old Male today at 3:15 am. He tested positive for Ebola on Sept 26, 2022, and died while receiving treatment at Fort Portal RRH, Isolation facility ( JMedic)."
This publication has exclusively learnt that the deceased was among the 6 health workers that tested positive for Ebola in Mubende Regional Referral Hospital early this week and were transferred to Fort portal Regional Referal Hospital.
Being a medical student, Dr. Ali had been deployed at Mubende RRH for clinical practice. His death brings the Ebola death toll to 4 out of the 24 Ebola cases reported so far.
Yesterday, Minister Achieng officiated the discharge of two Ebola survivors at Mubende Regional Referral Hospital.
" I am glad to discharge at least two of the Ebola survivors, Unfortunately, one of the recovered patients lost his wife and child to Ebola. May their souls rest in eternal peace," said Dr. Ruth Achieng. In addition, she asserted that, ": Uganda has managed 7 Ebola outbreaks to date, we have never exported it to any country. And who contained these? The health workers."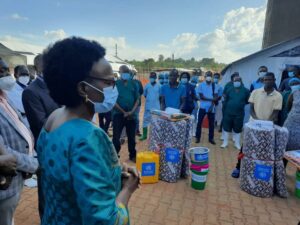 Ministry of Health launched a mobile lab in Mubende regional referral Hospital yesterday for swift Ebola virus testing in the region and to reduce the Turn around time of results.
The Minister has urged leaders at all levels to ensure that communities understand the magnitude of the Ebola outbreak noting that, "People are not dying of witchcraft, they are dying due to Ebola."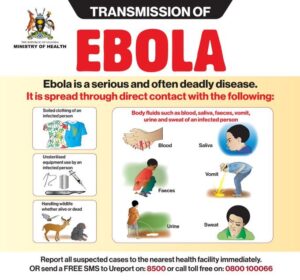 Dr. Achieng further called upon the general public to cooperate with the health workers and response teams so as to curb the spread of this outbreak.
In his address to the Nation on Tuesday this week, President Museveni thwarted a proposal for a National lockdown saying, " Ebola Sudan is not as infectious, even when fluids from the infected person get on your skin, you will not be infected as long as you have no cuts, we will manage this, we have experts. Therefore, no need for a lockdown."
In just 3 days since his address, 3 people have succumbed to the deadly virus leaving an eminent possibility of a partial lockdown.
Authorities declared an Ebola outbreak on the 20th of September 2022 after 'Ebola Sudan' had been detected in the central district of Mubende around early September. The first casualty was a 24-year-old man who succumbed to the virus on the 19th of 2022.
According to World Health Organization, the Ebola Sudan strain is less transmissible and has shown a lower fatality rate in previous outbreaks than Ebola Zaire, a strain that killed nearly 2,300 people in the 2018-2020 epidemic in the DRC.