Songbird, Martha Mukisa of the 2021 famed hit collabo, "Sango", yesterday thrilled students at the Nkumba University as Trade Bazaar gained momentum entering day two.
Proven by her thriller moves, Martha put up a stellar show to write her name amongst the few musicians in Uganda who have conquered the hearts of Nkumba University Students.
She joins Roden Kabako amongst the musicians that have attracted droves of revellers to this year's Annual Trade Bazaar organized by the Nkumba University Student's Guild Leadership.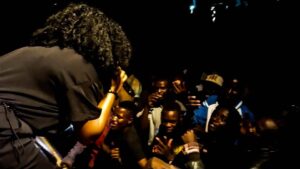 The "Oba Busy" singer strolled on a marvel of glitz and glamor stage leaving revellers switched on.
There was already a groundswell at the venue by 6:00pm with students and business vendors relishing a chance to watch Martha Mukisa who had been rumored to perform.
Her performance lived up to the hype with students matching her energy to a night-long thriller Entertainment.
Martha's music journey is traced from the 2019 Blankets and Wines when she turned up as an associate act before she got signed under Black Magic Entertainment following the departure of John Blaq, their former singer, who was their top musician at the time and this was her turning point.
Today Martha is the Record Label's biggest artist no wonder the Trade Bazaar organizers found her fit to light up the student's mood.
The 7 day event kicked off on Monday with Roden Kabako's electrifying performance as Entebbe Municipal Council Mayor, Fabrice Rulinda Presided over the opening ceremony.