Nkumba University's Vice Chancellor, Prof. Jude Lubega has revealed that the University will host a fundraising dinner on the 16th of December 2022.
As a Private institution striving to significancantly add on the Country's Literacy level, Nkumba University continues to position itself as one of the leading higher institutions of learning.
Because everything raises and falls on leadership, the University's management team is working around the clock to ensure that the University stands rock solid post COVID-19 to deliver the academic promise.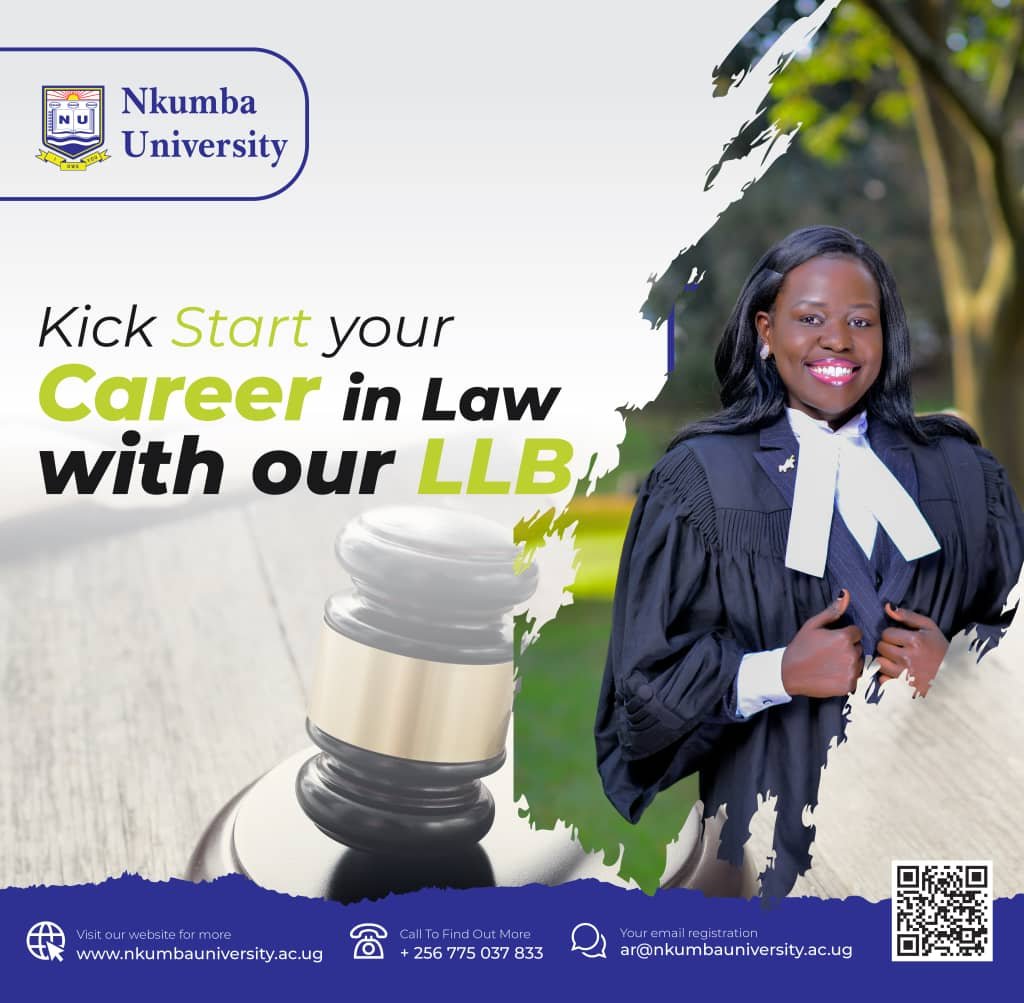 This year, Management came up with a fundraising strategy aimed at gathering well wishers, Students and the Alumni community in one accord to dine as they pave way for the growth and development of Nkumba University.
According to Mr. Bbosa Sulaiman- Chairperson organizing committee, the proceeds from the dinner will go towards improving the learning environment, "We want to focus on improving the learning structures, increase on the number of class rooms and revamp the face of the university." Said Mr. Bbosa.
With over 30,000 Alumni community, Friends, well wishers and students, the innaugural annual dinner is estimated to bring together over 500 people.
Tables will go for 3 Million UGX-Gold and 2 Million-Silver. Individual-Gold is set to cost 300,000 UGX, 200,000 UGX for silver and a 100,000 UGX bronze.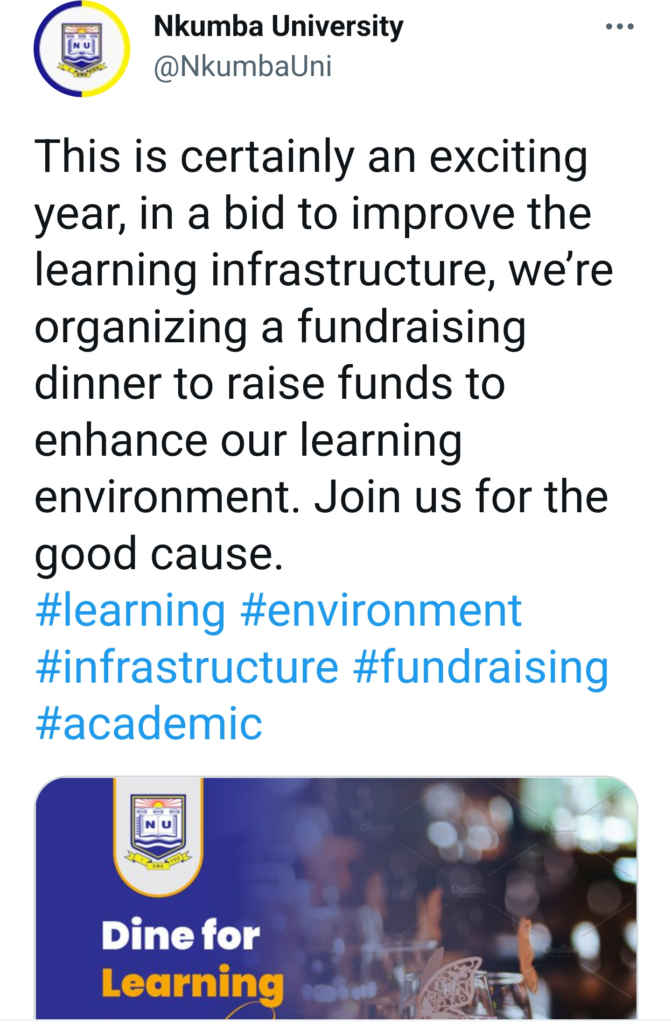 Since it's Chartter in 2006, the University has over the years offered both physical and virtual learning to students within Uganda and across the Globe.
Located on the outskirts of Entebbe, the University's main campus stands approximately 200 meters off Entebbe highway in Wakiso district with the Kampala campus situated close to 10 meters off Kabaka 'njagala road.
Nkumba University was stablished in 1994 as part of a group of schools and colleges that originally grew from a kindergarten, The University reminisces of a valued history reflected in the thoughtfulness of great individuals whose dream was to build their community through academic prowess with compassion.
On 29 July 1952, Ssalongo Kintu a local merchant invited two of his friends; Charles Kisitu Ffulu, and Zefania Mpanga for a meeting. This meeting led to the establishment of a kindergarten for their infants.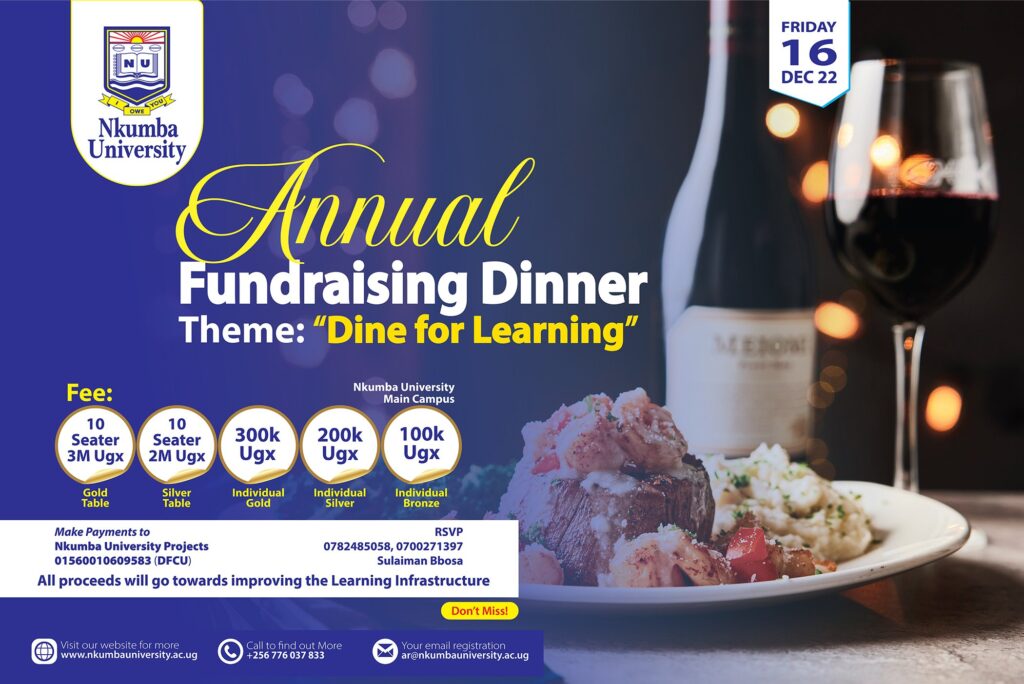 They believed that , to nurture anything to mature fruition, they needed to start at a tender stage- infantry, and indeed on 6 February 1952, the kindergarten opened with twelve pupils at Ffulu's home. It grew into a primary school which thrived to become a junior secondary school and later a senior secondary school. In 1969, the school became a vocational institute and name changed to Nkumba College of Commerce and Advanced Studies in 1974.
With a formidable track record of prolific academic excellence, Nkumba has stood the test of time becoming a shrewd arena of great academicians, a game hub for over 10 sports disciplines, pouring over 1,000 graduates into the job market every year. Nkumba University is an institution to reckon with.