Israeli Prime Minister Benjamin Netanyahu declared war against Palestinian militants after they launched a surprise attack on the Asian country Saturday Morning.

The Palestinian militant group Hamas, the group that Governs Gaza, led the deadly, multi-front attack that left at least 200 people dead according to Aljazeera reports.

Devastating images of deadly attacks have been transmitted out of now war-torn Israel in less than 24 hours showing Hundreds of people killed and many kidnapped by militants to be used as hostages and human shields.

The country's Iron Dome has been overwhelmed by thousands of rockets, Isreal is now evaluating it's effectiveness as Paletine continues to shower in rockets leaving piles of debris where buildings and lives used to be.


Rockets have struck targets all over the Gaza Strip as the death toll grows, 24 hours since the attacks began.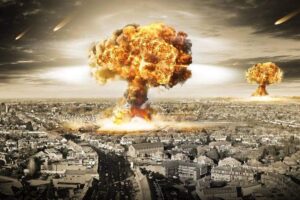 The devastation of the deadly attacks conducted by Hamas militants in dozens of Israel cities Saturday are the kind Isreal hasn't seen since the "war of independence," according to Joshua Hantman, a former adviser to Israel's Minister of Defense.

An announcement about U.S. aid to Israel could be made as soon as Sunday, after President Biden vowed "rock solid" support for the country Saturday afternoon.

Gen. Mark Kimmitt, the former assistant secretary of state for political-military affairs, said he expects to see a military victory inside of Gaza, but not an "end to the ideology that binds" them together.
"The Israelis will be rattled for a few days, then they'll get their feet underneath them and push back on the Palestinians the way they pushed back and destroyed the Egyptian army in a massive defeat," Kimmitt said.

Glenn Ignazio, military expert and retired Air Force Special Operations commander, observed that the situation in Israel will spark a "full-on war" and "be something that's without restraint."
"It's going to leave a lot of collateral damage and bloodshed but they're going to make sure that this never happens again and if that means wiping out Hamas as a total force, then it will be," Ignazio said.

Congressman Mark Green, who is chairs the House Homeland Security Committee called the attack in Israel "a failure of the intel community," when he joined NewsNation Prime Saturday. "I think there will be a lot of people digging into this in an after-action review, but clearly our intel, their intel failed the nations," Green said.

Members of Congress from both sides of the aisle, the White House and other leaders of the U.S. need to consistently condemn the "bad guys" attacking innocent Israelis, said Rep. David Kustoff, said on NewsNation Prime Saturday, adding that, "When we talk, the world listens."