Hundreds of students thronged Nkumba University main hall yesterday, 21st October 2022 as 7 candidates faced off in a thrilling Guild presidential debate.
The much-anticipated showdown became heated leaving contenders gasping for air while articulating their political agendas profusely amidst ululations.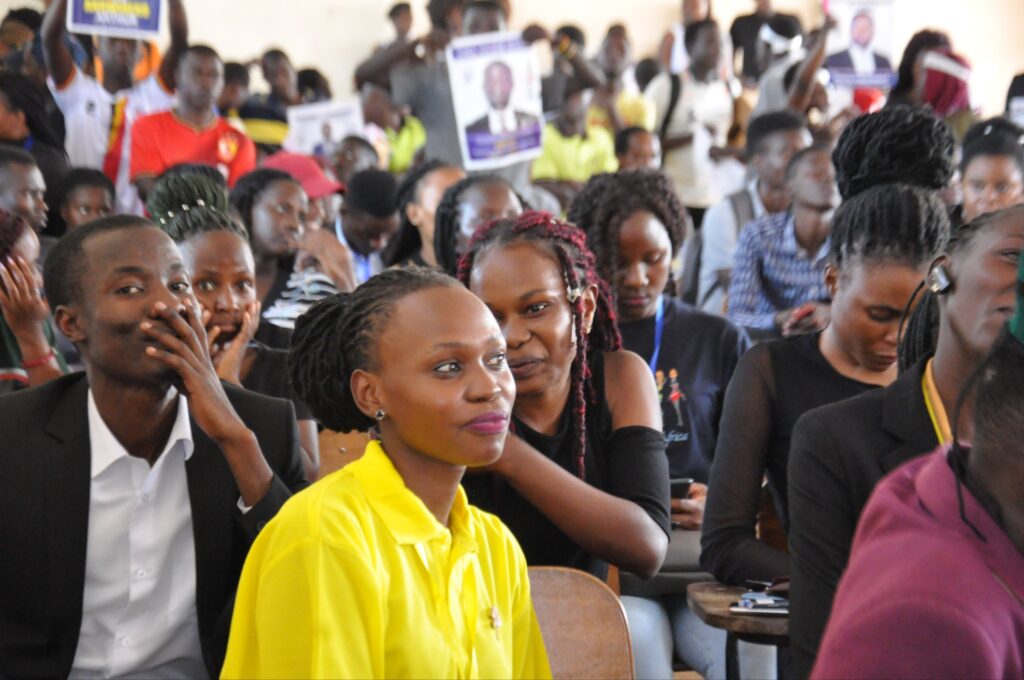 An oratory mind game essentially meant to capture the attention of students became even more interesting when veteran political renegade, Amon Muhwezi snubbed a student for alleging that he is a greedy leader.
When pressed for accountability and government's failure to deliver, Amon exonerated himself citing podiums lobbied by parliament as a project students should be thankful for. "I speak as a former deputy speaker, we as parliament delivered, all schools benefited from the Podium project. This was our initiative, we lobbied for funds and we were able to deliver 6 podiums to each school."
He scoffed at his nemesis telling them to stop envying him, "why do you envy me when my people push me for a better position".
The Nkumba University NRM Chapter stalwart was solid on his word directing those asking for accountability to seek answers from the incumbent guild president.
The NUSSA-backed candidate, Toka Victor is the underdog in the race given his slow start early this month. Toka believes that the concept of the biblical fight between David and Goliath will usher him into the Presidential seat. The self-proclaimed 'humble servant' has fronted cross-cultural connections as the only tide for achieving his stewardship goal.
Former MP SLAW, Imran Kigongo grabbed the microphone with flamboyance asserting narratives that he says will restore parity among struggling students singling out the guild scholarships.
Commanding the loudest entourage NUP's Morris Ssemambo introduced his strategy tailored on policy reviews and the much-needed service delivery. "We need a leader who is service oriented and very passionate about student welfare and I am that leader."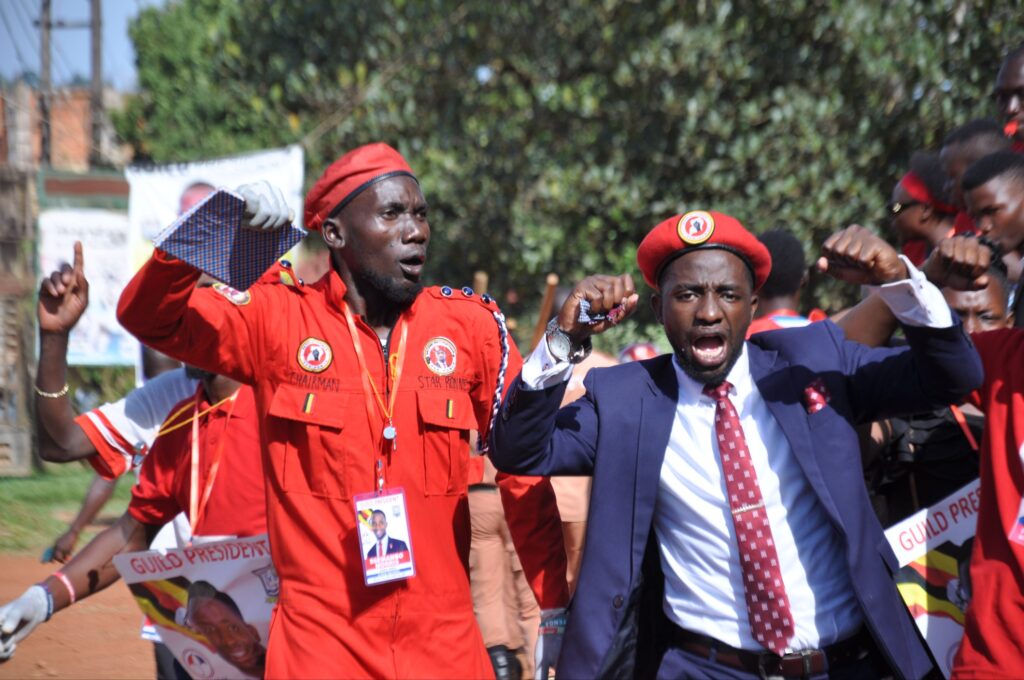 In a rebuttal approach, NRM's Arthur Andwineho observed that the candidates who were part of the previous government have no moral authority to seek for student's support after failing to deliver.
Arthur was referring to Amon and Imran. The two served in the 26th parliament as deputy speaker and Clerk to Parliament respectively.
The second-year Business Administration student promised improved wi-fi connection within the University.
Sharif Ssebina's deliberation hinged around unity, "I am here to deliver unity. I am willing to work with everyone irrespective of their political affiliation. To the performing artists, we have a plan that will amplify your talent." Said Ssebina adding that, "For sports welfare, we are allocating 5millions shillings on the guild budget to cater for a meals."
Earlier in the day, Ngirabakunzi Daniel turned up at the venue mobbed by his supporter trolling on a safari land Cruiser. Daniel's campaign strategy has been dwelling mainly on marketing the university," The numbers have gone down, we need a robust marketing strategy to get back-up, if we market the university internally and externally, it can help us attract more students."
Amon and Arthur are Nkumba University NRM chapter members but have since fallen out after the former deputy speaker joined the race following his lose in the NRM Primaries late august.
The campaign to usher in the 27th Guild president of Nkumba University is still ongoing. 7 candidates entered the race last month.
Predictions have failed to single out the student's favourite with almost all candidates arguably doing well on ground.
As students prepare to go to the polls on 29th October, Nkumba University news desk introduced the e-polls to determine who would win if elections were to be held by 20th October 2022 and Toka Victor took an early lead. Final results are yet to be pronounced by the news website.