President Yoweri Museveni who is the Commander in Chief of the Uganda People's defense forces has dropped Lt. Gen. Muhoozi as Commander, land forces, and appointed Maj. Gen. Muhanga Kayanja to replace him.
A letter dated 4th October 2022 crafted by the UPDF spokes person Brig. Gen Felix Kulayigye indicates that the two Generals have also been promoted. "The Ministry of Defence and Veteran affairs and the UPDF fraternity congratulate the General officers upon their well deserved promotions and appointments," the letter reads in part.
Muboozi was elevated from Lieutenant General to General and retained as presidential adviser on Special operations. His Successor promoted from Major General to Lieutenant General before being appointed the Commander Land forces.
The developments Coincided with events that followed Muhoozi's social media attacks on the sovereignty of the republic of Kenya.
Using his Twitter handle, the General questioned Kenya's rule of law and insinuated that it would require his army only two weeks to capture Kenya's capital, Nairobi.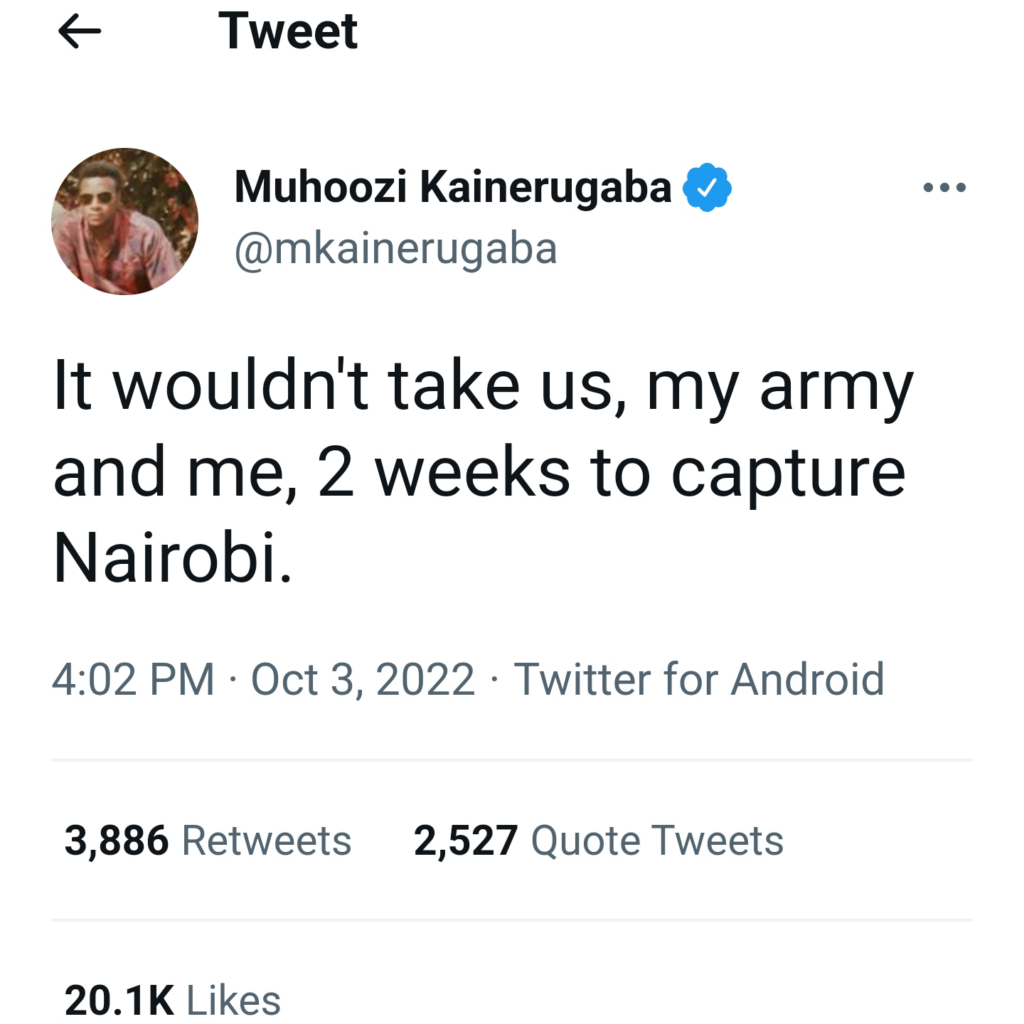 In questioning Kenya's rule of law, the 48 years old General, suggested that Uhuru Kenyatta should have changed the constitution to remain in power.
"Haha! I love my Kenyan relatives. Constitution? Rule of law? You must be joking! For us (Uganda), there is only the Revolution and you will soon learn about it!" Muhoozi tweeted
In retaliation, the Ministry of Foreign Affairs released a statement to that effect, "Uganda reiterated its commitment to foster strong relations between the two East African Community countries, the Country's foreign policy is not run on social media and does not depend on social media when dealing with sovereign countries," the ministry stated.
Born in 1974, Muhoozi's early education was in Tanzania. He later moved to Mount Kenya Academy and then Sweden.
When his father took over power in 1986, Muhoozi returned and and attened Kampala Parents School for primary, King's College Budo for O'level and St Mary's College Kisubi for high school.
Muhoozi was later admitted at the Egyptian military Academy where he took both the company and battalion commanders courses.
In 2007 he was admitted to a one-year course at the United States Army Command and General Staff College at Fort Leavenworth, Kansas graduating in June 2008.
Muhoozi does not hold a degree in any verifiable non-military education.
Sources indicate that General Muhoozi attempted to have a degree at the University of Nottingham but fell short. He then returned and Joined the UPDF in 1999.
In 2017 Muhoozi was appointed Presidential Adviser, fueling speculations that he was being prepared for presidency.
He was reappointed as the Commander of the elite Special Forces Command (SFC) in December 2020 a position he had held between 2008 to 2017. He was later dropped as Command SFC and appointed Comander land forces.
On 30 November 2021, He led the UPDF in a joint operation with the DRC's army to launch a joint military offensive in Eastern Congo dubbed 'Operation Shujaa'.