Nkumba University's Guild Speaker of Parliament, Right Honourable Rwangago Enoth Kakye, announced on Tuesday that students can now pick nomination forms for commissioner positions in preparation for the September 9th guild elections.

In a letter dated 15th August 2023, the Speaker notified students to pick nomination forms for filling commissioner roles at their respective schools between August 16th to August 23rd, 2023.

"The Office of the Guild Speaker in exercise of the constitutional mandate under Article 12(3), Article 22 as amended hereby calls upon the entire students fraternity to pick Nomination forms for commissioners of their respective schools from the office of the Guild Speaker from 16th-23rd August 2023." States the letter.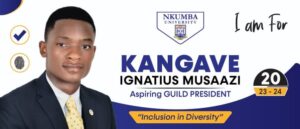 The letter further stipulates that all applicants should have paid at least 30% of their tuition fees and pay a non-refundable application fee of up to 40,000/= before obtaining the forms.

"Completed nomination forms must be submitted to the office of the speaker not later than August 23rd, 2023."

The statement emphasized that failure to comply with the requirements would render the applicant unfit to be a commissioner of their respective faculty.

The parliament convened early May and resolved to draw the election closer as plans are underway to return to a normal election roadmap following a three-year interruption caused by the COVID-19 pandemic.
Next government is expected to ran between September, 2023 and April, 2024.
Parliament has set 25th August as the vetting day for all commissioners.
According to the Guild Constitution, after vetting, Parliament will be dissolved to make way for the constitutionalization of the electoral commission.
Same day, successful commissioners will seat and elect their chairperson who then appoints his team to start drawing the election road map.


The political atmosphere is heating up, with four candidates already pitting camps.

On Tuesday, the National Unity Platform (NUP) endorsed Nicklas Musasizi as their party flagbearer – NUP Nkumba University chapter.
Wandera Derrick, Kangave Ignatious Musaazi, and Kebirugi Fridah are among the possible contenders for the Guild presidential race.

The Guild President is yet to make a statement regarding the forthcoming elections.