Nkumba University overcame an early setback to secure a 3-1 victory against St. Lawrence University, today on their home turf.

The Beach Boys conceded an early goal, but Mamur Irivinr emerged as the hero of the day, netting an equalizer in the 32nd minute and doubling his tally just 8 minutes later, giving the hosts a one-goal advantage at halftime.

The second half saw Nkumba taking advantage of their numerical superiority over the visitors, as the Saints struggled to find their footing.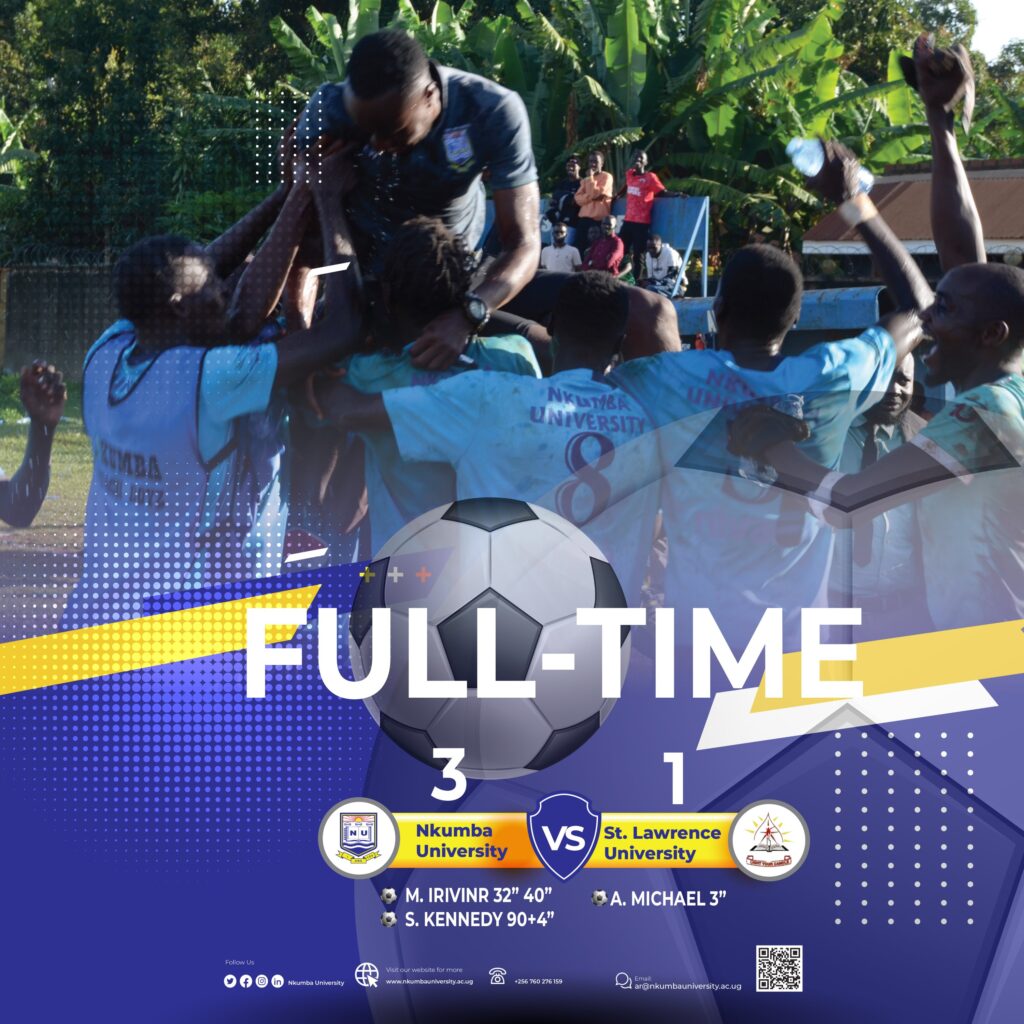 Nkumba University team captain, Kenedy Ssewankambo demonstrated prowess with exceptional performance in midfield making a fine attempt on the goal but the Saints goalkeeper managed to contain the situation.

Captain Kenedy made another attempt, this time finding the back of the net in the 80th minute, only to be ruled offside.

The magnificent captain kept on pressing until he found a through ball, curling it past the goalkeeper to seal Nkumba University's 3:1 Victory over their arch-rivals, St. Lawrence University.

St. Lawrence's Head Coach, Ssozi Davis, attributed the loss to Nkumba University's goal conversion ability, "We were unlucky, they did their homework and capitalized on their chances. It was their day."

Coach Davis says, the lose is only a reminder to refocus, "This is a wake-up call, my team has been reluctant, but we will rebuild and return stronger."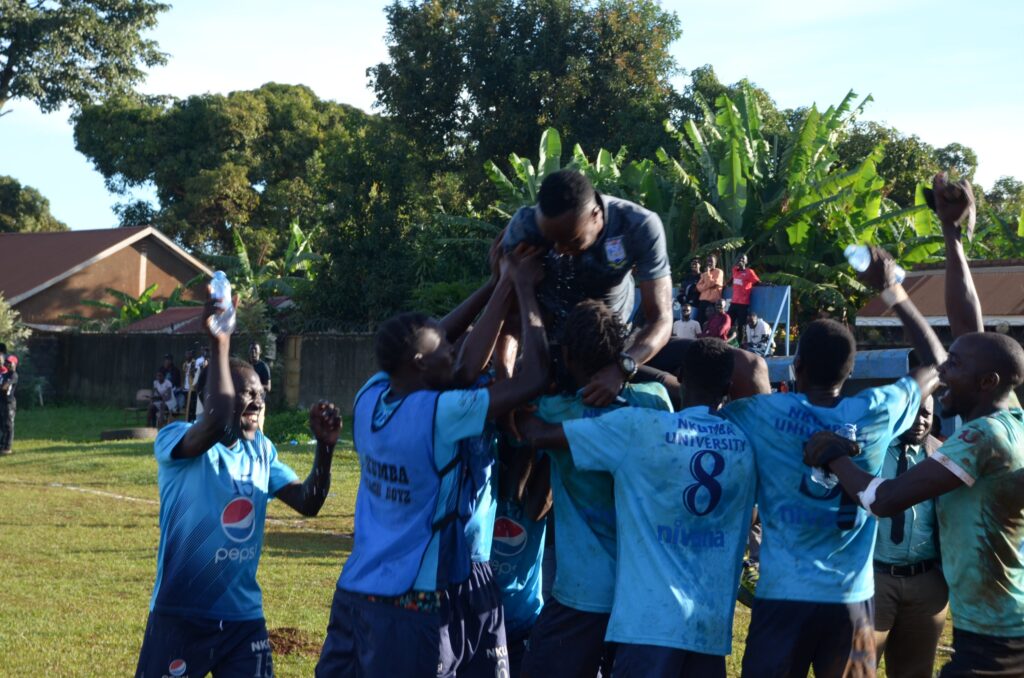 Filling in for Nkumba University's Head Coach, Dr. Bbosa Sulaiman, Coach Waswa Emmanuel expressed his elation with optimism, "Nkumba is a strong contender for this year's Pepsi University Football League Trophy."

"this win is a motivation for us to go beyond the semi-finals and bring the trophy home." he added.

Waswa emphasized the team's solid defense, the pivotal role played by their goalkeeper, and the exemplary leadership of the team captain as key factors behind the win.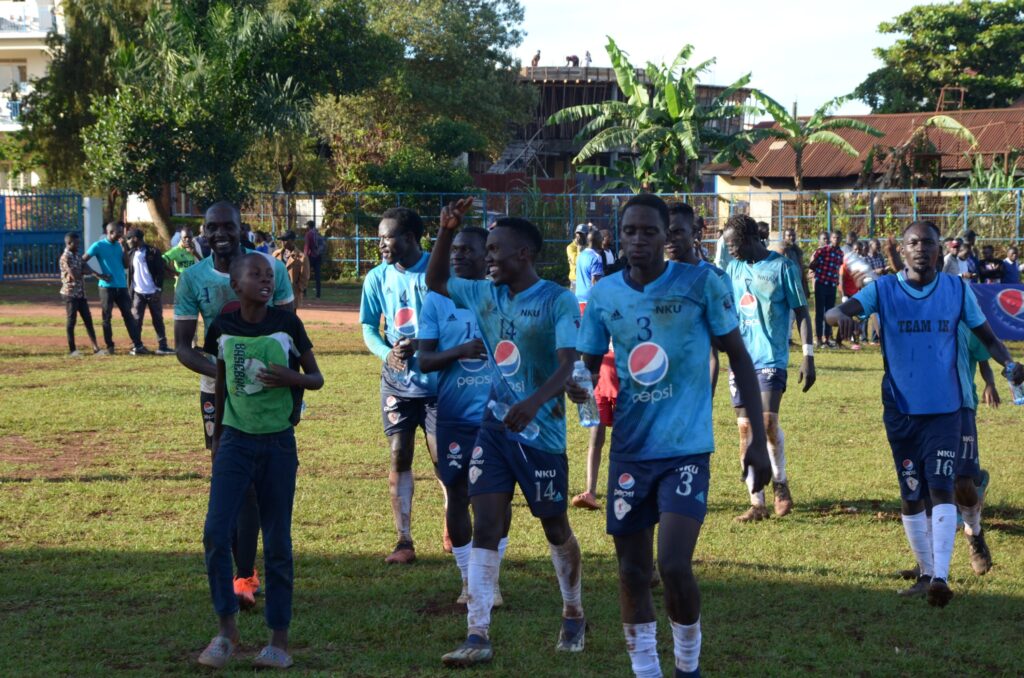 The rivalry between the two clubs intensified following their previous encounter at Kavule last month where Nkumba suffered a humiliating 3:1 defeat.

But Nkumba University's 3 -1 tit-for-tat victory at home not only ended St. Lawrence's unbeaten start to the Pepsi University Football League season but also defied earlier predictions that had favored the Saints.

St. Lawrence retains the top position in the Group E table with 12 points and Nkumba trails in second with 2 points shy.

Gulu University's last week win pushed the Northern giants to 3rd position having collected only 4 points from 5 games played.

International University of East Africa sits at the bottom of the table with only 2 points.

A win in their away encounter against Gulu University next week will brighten the Beach Boys' chances of advancing beyond the group stages.