The Nkumba University Vice Chancellor, Prof. Jude Lubega has revealed that the Entebbe based higher institution of learning will be embarking on investing heavily in research and innovation.
He said this during the second edition of the Nkumba University International Research Conference that took place yesterday, 4th November 2022 at the University's main hall.
Under the theme 'embracing change and transformation' the Conference attracted both physical and virtual attendance with over 20 presenters elaborating on research findings and proposals inclined to social sciences and law.
The professor noted that Many researchers out there including Ugandans find research conferences expensive to attend but having a conference like this gives a conducive platform for young researchers to present their ideas, receive feedback and in turn grow their research for purposes of national development."
He envisages Nkumba as a leading research led University in the country."In the future we plan to be a research led university and it is through such conferences that we ignite our journey.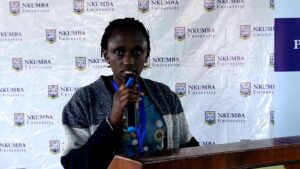 According to Associate professor, Solomon Muchwa Asiimwe, the Research conference was open to researchers across the globe. "The aim is to give a platform to all researchers to disseminate information world wide."
He further noted that, "as a University we have to do research and disseminate our findings and in so doing, both the academia and the community benefits."
"This is also an open opportunity for researchers to be advised and guided on how best to go about their research." He added.

In his deliberation on the topic, "assesing the fitness of educational Technologies for administrative processes Support: A case of secondary schools in Uganda, Dr. John Paul Kasse observed that in the wake of COVID-19, technology was identified as an ad-hoc tool in advancing education, this in turn resulted into digital addiction which now requires interventions for neutralizing the addiction as technology remains Key elements in the Education sector.
While delivering his keynote speech, the National Drug Authority-NDA head of regional offices Dr. James Williams Tamale said if Uganda embraces research and innovation, the country will be able to stand economic turbulence. "It is through research that we are able to make meaningful change."
"For instance, when COVID hit the world,researchers responded swiftly to come up with vaccines. That's how research and innovations gave us solutions to restore parity world wide."He added.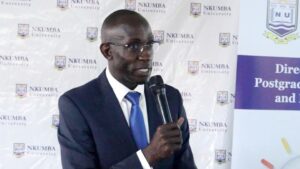 Nkumba International Research Conference provides a platform for presenting and discussing research proposals in a multi-disciplinary approach.